In order to maximally support the business of enterprises in the last 6 months of the year, the Isuzu i-TRUCKS dealer network continues to offer many attractive programs to support customers easily own Isuzu truck models.
Transportation demand will be increased in the 6 months of the year, both supply and demand sides devoted themselves to transporting goods for production and meeting the market's demand. However, due to the influence of the domestic and international economy, fuel (oil) prices fluctuate strongly, thereby creating pressure and difficulties for businesses.
Accompanying customers, the Isuzu i-TRUCKS dealer network offers a special program called: "F-SERIES: OPTIMIZED THE COST- REASONABLE INVESTMENT" with support up to 50 million VND. The program will be applicable to all Isuzu F-Series trucks.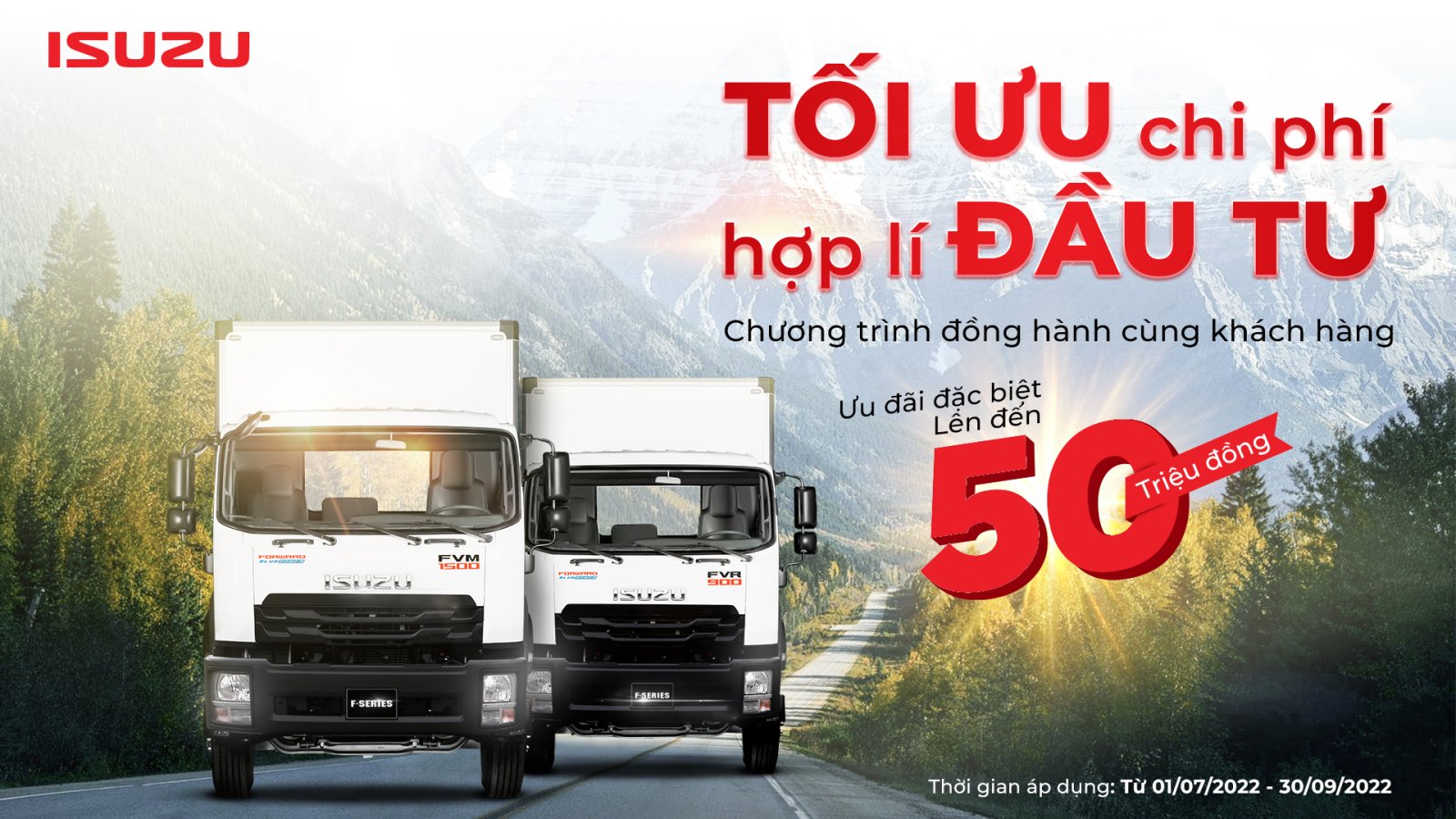 Details:
The program applies from July 1, 2022 to September 30, 2022

Applicable to Isuzu F-Series trucks: FVR-U/ FVM/ FVZ

Program content: Customers who buy a car during the program will receive a cash back corresponding to each car model:
| | |
| --- | --- |
| MODEL | SUPPORT VALUE (VNĐ/VEHICLES) |
| FVR-U | 50,000,000 |
| FVM | 30,000,000 |
| FVZ | 50,000,000 |
The program also sends sincere thanks to customers who have always accompanied and trusted Isuzu brand during the past time. This is also one of the regular customer support series from the Isuzu Dealer System.
F-Series: Diversify carrying capacity

Isuzu F-Series is equipped with powerful Euro 4 standard engines with a total tonnage of 11-25 tons, providing a diverse choice in transporting medium, heavy and long-distance goods. In particular, the models are capable of operating well in bad terrain conditions. Extremely good load-carrying capacity, durable operation and fuel-saving.
Discover more Isuzu truck lines: https://isuzudaklak.com.vn/xetai-vn/
If you have any questions, please contact the Isuzu i-TRUCK dealer system selling trucks by following the link here: Link
ISUZU VIỆT NAM