Pickup D-MAX belongs to the LCV (Light Commercial Vehicle) segment of Isuzu, the world's leader in production of commercial vehicle and the oldest manufacturer in Japan. In April 2021, Isuzu Vietnam (IVC) successfully launched the All New D-MAX, 1 year after Isuzu launched the D-MAX 2022 version – "The Perfect Truck" which is perfect in terms of exterior, interior, engine and Euro 5 emissions standard (environmental friendly).
D-MAX 2022 meets ASEAN N-CAP 5-Star standard – 5-star Southeast Asian safety standard to help customers feel secure and confident when choosing. In addition, the Type Z version is equipped with the ADAS – Advanced Driver Assistance System increasing safety while driving. With the launch of the pickup D-MAX 2022, Isuzu hopes this pickup truck will bring many great experiences and be a persistent companion of customers on every journey.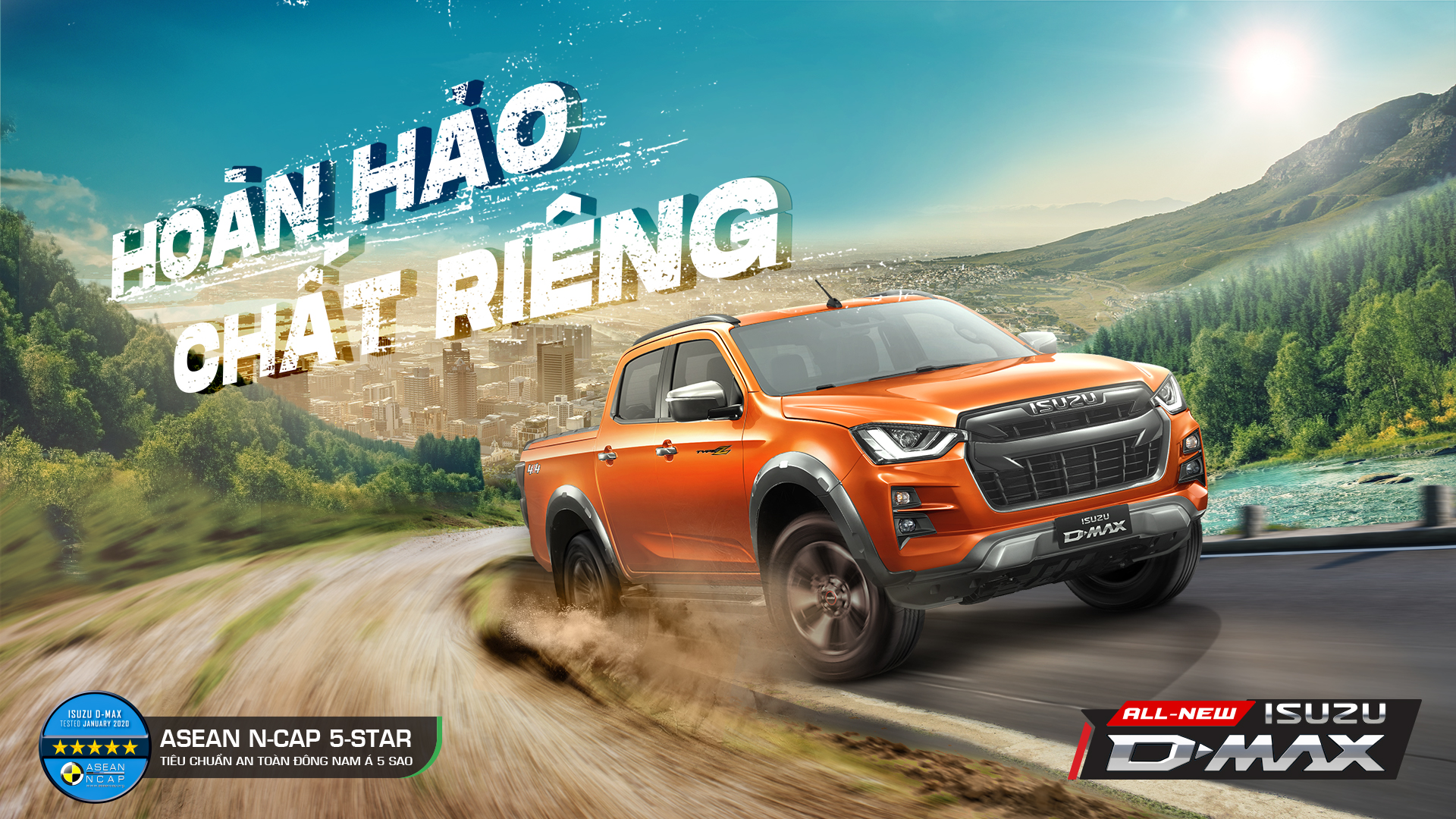 D-MAX 2022 – "The Perfect Truck" is the result of research by a team of Isuzu experts and engineers through years of testing and innovation to meet customer expectations in Vietnam, where the pickup truck is defined as not only a multi-utility vehicle, but also a luxury vehicle to serve family and express their personality.
D-MAX 2022 – "The Prefect Truck" with a series of outstanding features:
– Exterior with strong, sporty and masculine design
– Modern interior, high-graded material and high-class convenient
– Diesel engine for maximum efficiency fuel
– Advanced technology – Outstanding safety
Comparison between All New D-MAX 2021 and D-MAX 2022
All New D-MAX 2021 versions are upgraded with an Euro 5 emission treatment unit.​ Compared to All New D-MAX 2021, D-MAX 2022 has added Hi-Lander 4×2 AT version equipped with safety system, luxury leather interior and strong exterior similar to Type Z 4×4 AT version.​ Therefore, this new version of Hi-Lander helps customers having more choices for pickup trucks to serve business and family needs. Cruise control system and power folding mirror have been equipped on the D-MAX 2022 versions. These models are all imported from Thailand.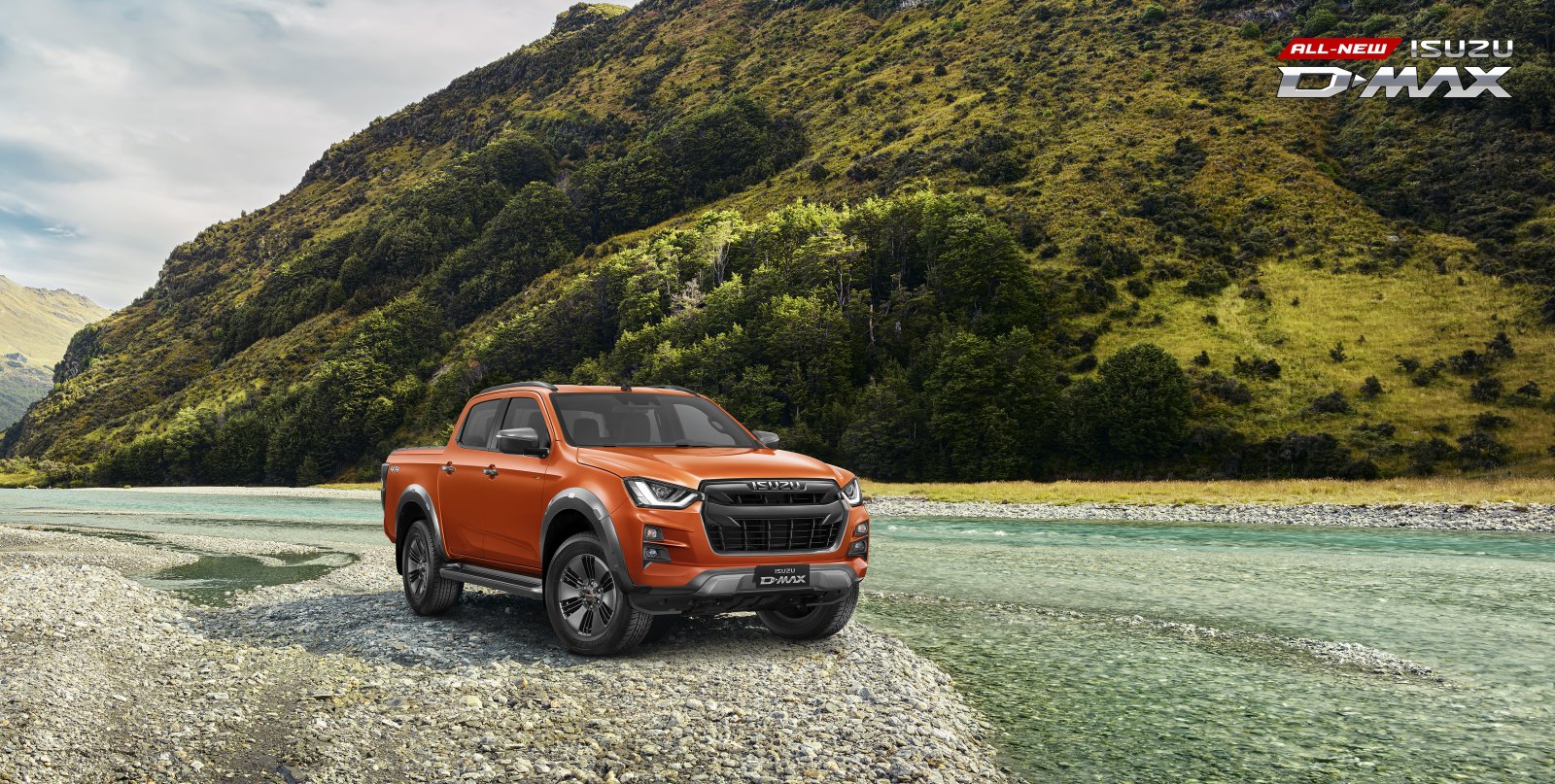 D-MAX Hi-Lander – New version of D-MAX 2022
Up to 2007, ISUZU VIỆT NAM (IVC) had a lineup of multi-purpose vehicle named "Isuzu Hi-Lander".
After 15 years, ISUZU Hi-Lander continues to prove its durability and outstanding economy in Vietnam.
"Hi-Lander DNA" has made the brand of the "next generation" from comfortable drive spacious interior, outstanding conveniences to durable performance, fuel-efficiency, and a series of modern safety features.
D-MAX Hi-Lander is equipped with a powerful, fuel-efficient 1.9L diesel engine, combined with a 6-speed automatic transmission and rear-wheel drive (RWD) to provide maximum performance in the urban environment.
The exterior of the Hi-Lander version stands out with luxurious chrome-plated mirrors and door handles grip. Besides, there are outstanding large wheels of 18-inch.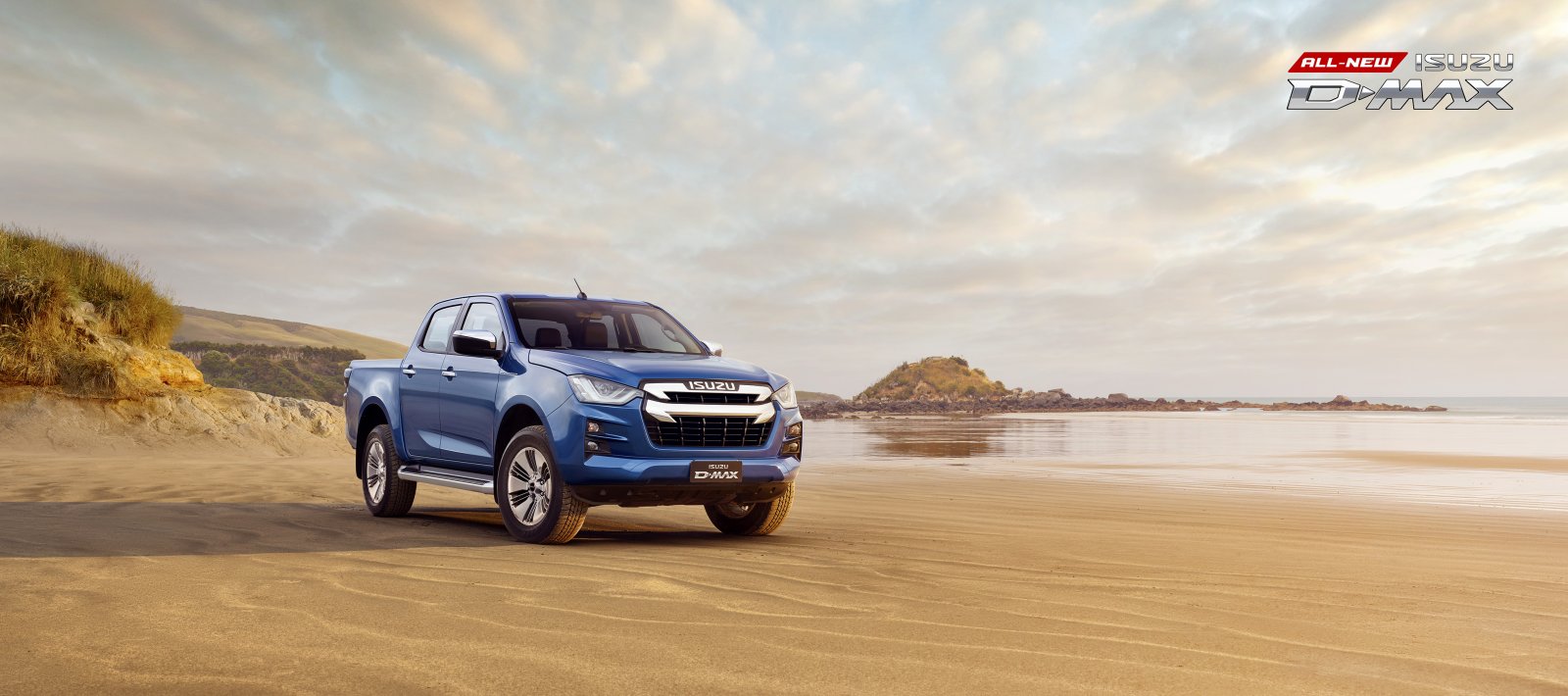 The exterior of the D-MAX Hi-Lander is modern and luxurious, while the D-MAX Type Z version has many sporty and powerful lines.
The interior of the D-MAX Hi-Lander is quite similar to the Type Z version, Hi-Lander version is equipped the black leather seat, the manual driver's seat adjustment 6 directions, and the 6-speaker audio. This version has a 9-inch screen with wireless Apple CarPlay and Android Auto which bring great entertainment experiences.
The Hi-Lander version is fully equipped with safety technology, from the ADAS safety system with radars arranged all around the vehicle, to the 6-airbag system, providing maximum protection for passengers.
Powerful & Sporty exterior
D-MAX 2022 has an overall dimension of Length x Width x High of 5265 x 1870 x 1790 mm respectively, with a wheelbase of 3125 mm.
The front end of Isuzu car stands out with a more neatly trimmed grille with a strong 2-stage black painted structure. The diffuser is wider than before, enhancing engine cooling performance, while creating a more aggressive look.
BI-LED head lamp is integrated with automatic switching on and off and automatic leveling to increase visibility for the driver. The cluster of turn signals and LED fog lamp combined with the spoiler increase the strength of the front end. The rearview mirror integrates a very delicate LED turn signal strip. Taillights with 2 prominent and modern LED strips make it easy to identify the vehicle from a distance.
Comfortable & modern Interior
The interior of ISUZU D-MAX is carefully equipped with Luxurious leather-wrapped steering wheel with convenient function buttons. Dashboard display: The high-resolution 4.2-inch Multi-Information Display.
Smart key – convenient remote start feature, which helps to remotely warm the engine and cool the passenger compartment. Moreover, Cruise control system increases comfort and fuel efficiency.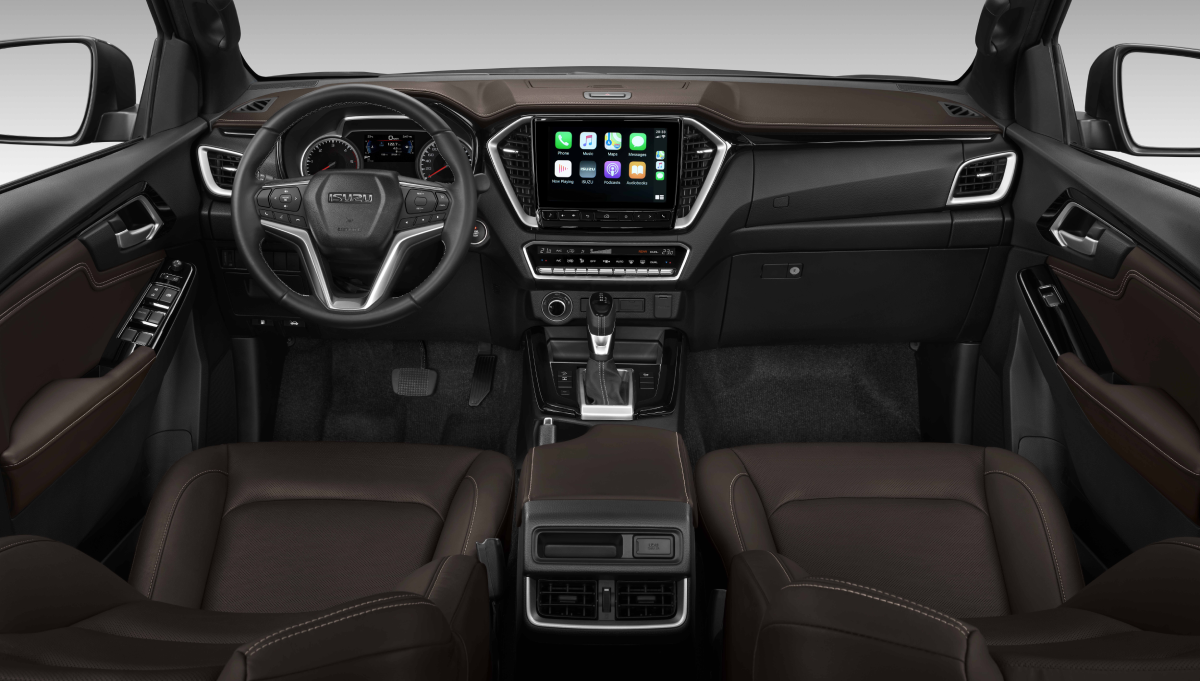 Modern dual-zone automatic climate control, delicate piano key control buttons, back seat air-conditioning vents integrate a USB charging port, they created a luxurious cabin for all passengers.
With a series of outstanding interior features, it increases your comfort throughout the journey and conquers many challenges.
Diesel engine – Maximum fuel efficiency
The 1.9L Diesel engine is a characteristic feature of the Isuzu LCV and helps excellent fuel efficiency and reliable operation that has always satisfied customers.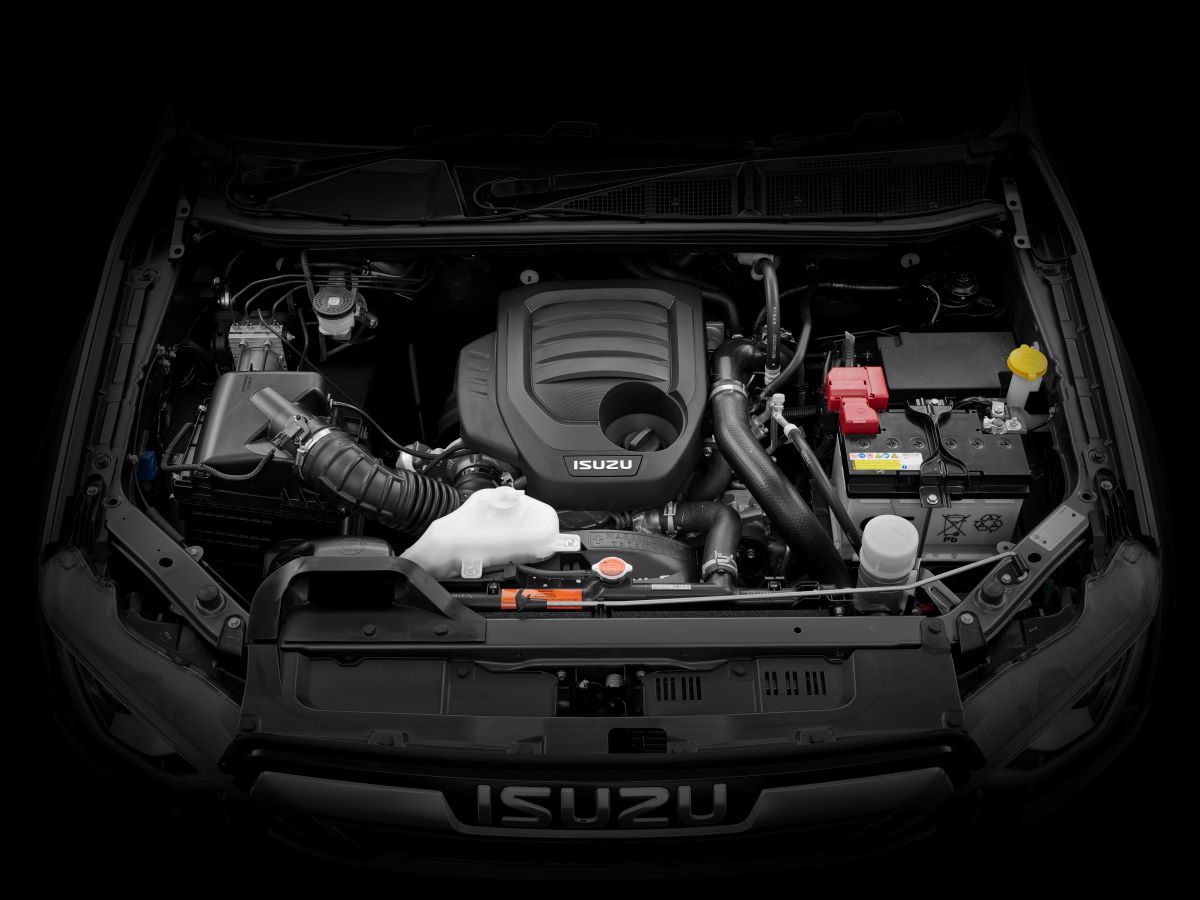 Advanced technology – Outstanding safety
D-MAX 2022 is equipped with a series of modern features such as: 7 airbag, Blind Spot Monitor (BSM), Rear Cross Traffic Alert (RCTA), parking aid system, Hill Start Assist (HSA), Hill Descent Control (HDC), Anti-lock Brake System (ABS), Electronic Stability Control (ESC), Traction Control System (TCS).
These smart technologies promise to ensure safety for your journey.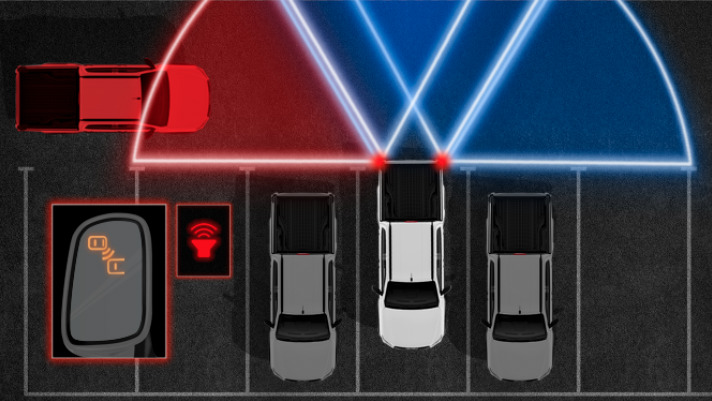 Attractive price, maximize warranty
ISUZU D-MAX Euro 5 is launched with attractive prices as follows:
| | |
| --- | --- |
| Phiên Bản D-MAX | Giá bán lẻ đề xuất (Đã bao gồm VAT) |
| Type Z 4×4 AT | 870,000,000 VNĐ |
| Hi-Lander 4×2 AT | 750,000,000 VNĐ |
| Prestige 4×2 AT | 680,000,000 VNĐ |
| Prestige 4×2 MT | 640,000,000 VNĐ |
At Isuzu, customers will enjoy the most attractive sales & after-sales policies in the segment. Warranty policy is up to 5 years or 200,000 km (Whichever comes first). With a nationwide sales network, providing after-sales service & genuine spare parts, a team of well-trained technicians according to global standards, all of it promises to bring interesting experiences to customers.
See more details of product at: https://isuzudaklak.com.vn/lcv-home-vn/
Isuzu dealer selling SUVs & pickup: LINK